Dinesh Poorun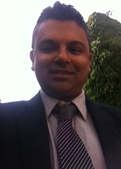 Dinesh Poorun has been an Educator for eleven years during which time he had developed workbooks/texts on Culture, Communication and Media. He is currently managing the Arts Programme for first year students.
Dinesh is very interested in engaging students more through various uses of mobile technology and have previously managed the students' first year experience at UWS College. He is also a Lecturer in the area of Communications, Culture, Media, and Business Academic Skills. He had written a number of articles on the area of Blended Learning/Mobile Learning.
He is also developing apps and E Books in the area of intercultural communication and won the teacher of the year award at SIBT- Macquarie University in 2007. His previous corporate experience was as a Senior Advertising Account Manager. Dinesh also holds a Masters in Adult Education and a Bachelor of Communications.
Using Ipads – From Concept to Rollout
Synopsis:
UWSCollege is the pathway College to and fully owned by the University of Western Sydney. Over the past year UWSCollege has experienced significant growth in student numbers. Our Deputy Dean argued that we should be at the forefront of mobile learning in Australia. We rolled Ipads out to staff (mid 2012) and then to all students (start 2013). The larger University has rolled out IPADS to all first year university students.At the College level the distribution has reached over 1500 students. The University of Western Sydney has rolled out IPADS to approximately 10,000 students in total. UWSCollege has played an importat part in the initiative.
The College had a strategy in place to help staff shift their pedagogical stance to incorporate mLearning and bLearning. As one of the pioneers- labelled an 'IPAD champion' –my commitment was to help train staff to move from a traditional pedagogical stance to one that embraces new technology. There have been many challenges along the way- in particular shifting the mindset of many practitioners awayfrom the belief that students will use the technology for 'evil' and play games or be on social media instead of focusing on study. My belief is that an engaging teacher will always engage their students- therefore these IPADS should be seen as a means to enhance student learning. Our staff now work on the IPADS, classes are run using blended learning strategies, apps such as 'GoSoapBox' and 'Explain Everything' are being used in class, backchannels are being used for interactive chat, and IPADs are being used for assessment tasks.
UWSCollege is continuously engaging myself and others to share our experiences with mLearning in the classroom and to assess what works and what does not. I recently ran a project for all first year Arts and Social Science students where they had to use their IPADS to document their life at UWSCollege. We had a film festival for them to enter and many students were extremely creative and learned a lot about group dynamics in the process.
UWSCollege (as is UWS) is committed to continuing this progress with new buildings being used as mobile hubs and new 'blended learning' classrooms being icorporated in the new builds. The strategy to roll out Ipads to staff first, then to students, to evaluate the value of different blended learning techniques and to build new mobile hubs is unique in terms of the logistics and it is indeed an intersting journey which is still continuing – and I suspect is only a beginning.
Disclaimer: The organiser reserves the right to change the talks, speakers and presentations without prior notice.