Dr. Abdul Karim Alias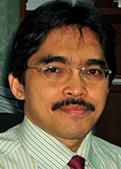 Dr. Abd Karim Alias is a Professor of Food Technology at the School of Industrial Technology, Universiti Sains Malaysia (USM) and current Director of the Centre for Development of Academic Excellence (CDAE). In 2002, he received the inaugural USM Excellent Educator Award and in 2010 he received the Anugerah Tokoh (Distinguished Person) from the university. He also was the recipient of the prestigious National Academic Award in 2008 for outstanding teaching.

In his current role as the Director of the Centre for Development of Academic Excellence, he is responsible to design and run a professional development programme in technology-enhanced learning and student-centered learning for the academic staff. In the last 3 years, Prof. Karim has been using iPad for preparing teaching/learning resources and for his lecture and presentation. He is also involved as a trainer in the technology-mediated learning workshop and has conducted numerous workshops especially on using technology (including iPad) in teaching and learning.

He is now leading a project to develop Open Educational Resources (OER) for the university and so far has succeeded to produce more than 20 Open CourseWares (OCW). He has also developed and maintained a few teaching portals, websites, and blogs related to teaching/learning and research.
Optimizing the iPad for Enriching Learning Experiences
Synopsis:
Educational technology in the 21st century is a fast-changing landscape and one of the key trends, as reported in the latest Horizon Report, is the explosion of tablet computing and mobile learning. Arguably, mobile learning is the future of education with the proliferation of affordable mobile devices such as smartphone and tablets. This is indeed an exciting time for 21st century educators to leverage emerging educational technology available at their disposal to facilitate and enhance students' learning and imparting the 21st century skills.

In the last few years, Apple's iPad has emerged as a powerful tool for engaging students in the classroom and for educators to produce teaching and learning resources. As the iPad continues to evolve along with other mobile media devices, the way educators teach and the way students learn will significantly change for good! However, while the iPad is brilliantly designed and easy to use, most people, including educators, are only harnessing a small fraction of the productive potential of the device. With all of the amazing apps available and the ever-faster network connectivity, educators can do much more with an iPad than they can with a laptop.

Do you want to be part of this exciting learning revolution? If you do, please join me in this presentation and waste no time to deploy iPad in your classroom.
Disclaimer: The organiser reserves the right to change the talks, speakers and presentations without prior notice.