Jenny Pesina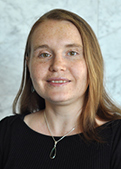 Jenny is an e-Learning Specialist and Multimedia Developer with the Centre for Excellence in Teaching and Learning, Faculty of Business and Economics, The University of Melbourne.

She has vast experience in front-end web development, educational media production and interface design. She has been heavily involved in the implementation of blended and fully online courses, delivery of interactive teaching and learning resources for various platforms, e-learning seminars and educational technologies.

Her research interests include promoting and sustaining student engagement using interactivity in learning, practical uses of media in education, pedagogy for blended and fully online models and mobile learning; and has extensive commercial work experience in the multimedia industry.

Her specialties include implementation of blended and online learning in Higher Education, learning needs analysis, interface design, user experience, information architecture, video production, front end web development, consultancy for a range of educational technology projects.

Further Information: http://tlu.fbe.unimelb.edu.au/about_us/jenny.html
Engaging Students through Mobile Learning – Higher Education Perspective
Synopsis:
Mobile devices have been part of student lives for quite some time. In Australia the number of mobile phones has escalated rapidly and is surpassing the number of desktop computers (Al-khamayseh & Lawrence, 2005 via Litchfield, et al, 2007). Educators are striving to produce engaging learning content to form part of the overall m-learning cycle in higher education.

There are pedagogical considerations to be explored such as redesign of the existing curriculum, content that is not designed for mobile delivery and most important of all competition against a wide range of "non-academic" activities students engage in on mobile devices. If this wasn't enough, there are technical issues to be considered such as multi-platform development of materials, usability, costs and integration with existing institutional Learning Management Systems.

This presentation will give an overview of students' usage of mobile devices exploring most popular activities, based on a number of international and Australasian case-studies from current research on mobile learning.

We will explore what works in and out of the classroom and how students can use their mobile devices for various learning tasks. We will finish by looking at how we can address student needs in relation to mobile learning and what makes good m-learning.
Workshop Title:
Fundamentals of Effective Mobile User Interface Design
(One Day: 1 Oct)
Synopsis:
Have you been considering using custom mobile applications in your teaching? Are you looking to modify your existing materials for mobile delivery? This workshop aims to introduce you to the fundamentals of user interface design for mobile applications. Effective user interface design principles and guidelines for mobile application design will be covered. A number of case-study examples will be explored, following by interactive exercises giving participants a chance to sketch and prototype their ideas.
What will be covered?
Effective mobile user interface (UI) design
Understanding your target audience
Examples of mobile user interfaces
Challenges and constraints of mobile UI
E-learning versus m-learning
Where to next?
What will we do?
Sharing your experiences and challenges using existing mobile applications
Brainstorming new ideas
Prototyping in small groups
Who should attend?
This workshop is for educators of all levels and corporate sector professionals who are interested in learning more about mobile user interface principles and guidelines and then creating mobile apps for their own purposes.
What to bring?
It is recommended that you bring along a laptop, a tablet and/or a mobile device.
N.B. This is an introductory workshop and does not require any prior technical knowledge of HTML, CSS, or JavaScript.
By the end of the workshop participants will be able to:
understand the fundamentals of mobile UI design
explore principles, techniques, challenges and constraints of mobile UI design
plan and prototype mobile application design project
Disclaimer: The organiser reserves the right to change the talks, speakers and presentations without prior notice.