Paul Lam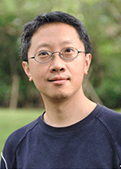 Paul Lam joined the Centre for Learning Enhancement And Research at The Chinese University of Hong Kong (CUHK) in January 2003. He has extensive interest and experience in teaching and learning principles, case-based teaching and learning, web-assisted teaching and learning, and English language teaching.

Formerly he was the Language Programme Design and Materials Development Officer in the Neuro-Cognitive Science for Language Education Project, CUHK, where he wrote the English teaching materials for several English enhancement courses with a focus on a cognitive approach. He was the Senior Research Assistant in the Centre for the Enhancement of Learning and Teaching at the City University of Hong Kong from 2000 to 2002.

In this post, he helped teaching staff to support their students' learning strategies, and use the Web to assist teaching and learning. Before working in the universities, he was a secondary school teacher for nine years (from 1988-97) in a number of schools, the last being Tang King Po School in To Kwa Wan, Kowloon.
Preparing the Campus for Mobile Learning in the BYOD Era
Synopsis:
Mobile learning has great potential in enriching the learning environment because of characteristics such as being always present, always connected, pushing of information, personalized experiences and provision of on-the-spot information (Woodill, 2011; Sharples, Taylor & Vavoula, 2005). It's potential in shaping a new learning environment for universities is further strengthened by the fact that more and more students readily bring along their own devices to the university (BYOD).
Hong Kong can be perhaps one of the first places in the world to explore the role of this BYOD phenomenon in education because of the wide-spread ownership of high-end mobile devices by students. Network infrastructure is also by and large well established in the campus. Apart from relying on campus wifi, many students readily use their own 3G/4G data services to connect to the web as such services are becoming affordable.
In the presentation, we will discuss first of all the many areas we should pay attention to in preparing for the modern day BYOD-friendly learning environment. Then we will illustrate some of these preparations with our work in the Mobile Learning @ CUHK (The Chinese University of Hong Kong) project which began in 2009. In particular, we will demonstrate strategies (e.g. ebooks and student response system) that can turn mobile devices into effective teaching and learning tools both inside and outside the classroom and the effort we paid to diffuse them.
References:
Sharples, M., Taylor, J. & Vavoula, G. (2005). Towards a Theory of Mobile Learning.
Proceeding: 4th World Conference on mLearning. Cape Town, South Africa.
Woodill, G. (2011). The mobile learning edge: tools and technologies for developing your teams. [electronic resource].
New York : McGraw-Hill.
Disclaimer: The organiser reserves the right to change the talks, speakers and presentations without prior notice.