Ichiro Miyazawa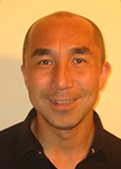 Programme Specialist and Education Designer, UNESCO Bangkok Office
Master's degree of Education on International Education Development, Columbia University, NY,

For the last 20 years, Ichiro has been working to promote education and literacy under the programmes and projects of UNICEF, UNESCO, World Bank, JICA and Private sectors. He has worked in Indonesia, Myanmar, Lao PDR, Thailand, Bangladesh, Pakistan, Kenya and Tanzania. His expertise is on literacy, life skill education, lifelong learning, ICT & education, and education data.


Mobile Learning for National Development: Promoting Women Literacy in Pakistan through Mobile Phones
Synopsis:
There are about 60 million illiterates in Pakistan. One main reason is the difficulty of retaining literacy skills of the new literates. Graduating the basic literacy courses, the new literates easily slip into a non-literate environment and it is extremely difficult to keep them motivated to make a conscious effort by themselves to keep up with their newly acquired literacy skills. The project is concerned particularly with the literacy retention problem among the youth and the problem of keeping them motivated to further consolidate their literacy skills. It found a solution in mobile phones, which have become the most desired daily means of communication among the young people.

Learners were given mobile handsets to receive SMS messages in Urdu day and night. Learners enjoyed reading messages and copying these messages on their working books. They also created and sent messages for 4 months. Communication through SMS becomes so habitual. As a result, their literacy skills were remarkably improved and they became more confident in themselves. There is large potential in promoting literacy through ICT. People, especially youths are in nature motivated to be connected, communicate with and obtain information from others. ICT devices do facilitate them to be literate and get empowered. To make this happen at a large scale, the cooperation among private sectors, public sectors, NGOs is essential.
Disclaimer: The organiser reserves the right to change the talks, speakers and presentations without prior notice.