Dr. Mohammed Sadiq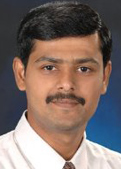 Dr. Mohammed Sadiq is a Senior Vice President at AEL Data Services LLP., and a key architect of Lektz – an ebook ecosystem facilitating mobile reading & learning, tracking & monitoring, and secured distribution of ebooks both online and offline. He has about 14 years of rich and varied experience in IT & ITES companies offering technological solutions and services to educational institutions, ministries of education, publishers and education management companies.

He is a computer science graduate with M.B.A and M.Phil in International Business Management. He is a passionate technologist with deep understanding and experience in devising new and innovative solutions for education. He has been a speaker at various international academic conferences, seminars and industry workshops. He is also actively involved in 'Train The Teachers' programs for universities, colleges and schools.
Presentation Title:
Powering and Protecting Online and Offline Learning Through a Mobile LMS with DRM (Digital Rights Management)
Synopsis:
The platform/technology that is to be presented will address the following issues/problems
Restrictions and limitations to access learning content anywhere and anytime – such as when learner is offline
Protecting the valuable learning content from illegal distribution and piracy
Tracking and monitoring of students' learning patterns and interests in mobile
The lack of solutions to embrace the power of mobile technologies in learning and teaching
The solution "Powering and protecting online and off-line learning through a mobile LMS with DRM (Digital Rights Management)" is built on Lektz ebook readers and ebook DRM framework. It provides an innovative learning platform that combines the power of both LMS and mobile technologies for online and offline learning. Its built-in ebook DRM mechanism helps protect the learning contents from illegal distribution and piracy.
It is an innovative solution and an integrated approach that makes use of latest mobile technologies and platforms in learning and teaching.
Attendees will learn:
how mobile technologies can be used for both online and offline learning
how interactive and engaging content can be delivered via mobile devices such as iPad, Android, Windows Tablets, etc
how the concept of 'students reading the content' changed to 'content reading the students'
how to protect valuable learning contents from illegal distribution and piracy
how epublishing content is being used for learning with the advent of ePUB3 and HTML5
Audience Level
For audiences having a fair knowledge of technologies, platforms and systems used in learning and teaching
Disclaimer: The organiser reserves the right to change the talks, speakers and presentations without prior notice.