Prof. Gráinne Conole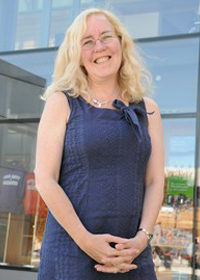 Gráinne Conole is Professor of learning innovation and Director of the Beyond Distance Research Alliance at the University of Leicester. Her research interests include the use, integration and evaluation of Information and Communication Technologies and e-learning and the impact of technologies on organisational change. Two of her current areas of interest are how learning design can help in creating more engaging learning activities and on Open Educational Resources research. She regularly blogs on www.e4innovation.com.

She has published and presented nearly 1000 conference proceedings, workshops and articles, including the use and evaluation of learning technologies. She was co-editor of the RoutledgeFalmer book 'Contemporary perspectives on e-learning research' and the recently published Springer book 'Designing for learning in an open world.'
Disruptive Learning: Fostering Creativity and Innovation through Disruptive Technologies
Synopsis:
The strap line for the conference is 'Learning Anytime, Anywhere, Anyway.' The talk will address this in terms of the affordances of today's technologies and will consider the ways in which they can support different pedagogical approaches and learning across different contexts. It will consider the ways in which learning is changing as a result and the impact on formal education in a world in which resources and tools are increasingly freely available.

These technologies can be described as disruptive technologies in that they fundamentally change the way we do things. In particular, more open practices are emerging as a result, for example the use of Open Educational Resources (OER) and Massive Open Online Courses (MOOCs) for learning and publication of research results through the blogosphere and new digital metrics for measuring researchers' reputation.
The talk will consider the implications for formal education and will argue that new approaches to design are needed to help teachers make pedagogically informed design decisions that make appropriate use of technologies.
Workshop Title:
Mobile Learning Design, e-Pedagogy & Using Augmented Reality for mLearning
(Two Days: 30 Sep - 1 Oct)
Synopsis:
Day One – Mobile Learning Design
This is an intensive design workshop to prepare courses for online and mobile environments. It is suggested that participants have a course in mind, for which to design and storyboard the teaching and learning, in this workshop. By the end of this module, participants will be able to:
conceptualise the learning design process from different perspectives
apply a range of learning design resources, tools and methods to a learning intervention
critique a range of pedagogical approaches and the role played by different technologies, especially mobile, in supporting these
review and debate the theoretical underpinnings of learning design
develop an innovative storyboard, learning activities and a structure for implementation
The day's activities are part of the 7Cs of learning design framework which consists of seven components:
Conceptualise – which initiates the design process and consists of imagine, design and prepare
Capture – which covers the ways in which search engines, OER repositories and social bookmarking can be used to find and collate relevant resources and activities
Communicate – which covers how to moderate asynchronous and synchronous forums
Collaborate – which considers how tools like wikis, voicethread, pirate pad can be used to foster collaboration and how to work in virtual teams
Combine –analyse your activity profile and bring artefacts together into a storyboard of your course
Consolidate – implement the course and develop an evaluation rubric
Course Description
The participants will engage with a range of learning design conceptual tools and a social networking site for sharing and discussing learning and teaching ideas. They will work in groups and will periodically share back their discussions with the rest of the participants. They will benefit from having a laptop by which to join in activities. Artefacts produced will be captured and made available online.
Day Two, Morning Session – mPedagogy (2.5 hours)
By the end of this module, participants will be able to:
consider their own positive and negative experiences of learning and the role of technology
critique the core facets of learning
provide an overview of different pedagogical approaches and how they can be enabled through new technologies. The affordances or characteristics of social and participatory media and consider the implications for learning and teaching
explore the use of different pedagogical approaches in different contexts
Course Description
Share and examine (1 hour): The workshop will begin by drawing on participants own experiences of learning, which will move on to drawing out what are the key facets of learning and factors for success, with evidence and examples leading to discussion on how to critique learning core facets. Participants will be invited to discuss and feed back with their own constructed examples.
MPedagogies Overview and Applications (1.5 hours): The participants will be provided with an overview of different pedagogical approaches which may likely feature in mobile learning: namely: associative, constructivist, situative and connectivist, with example of appropriate use. Participants will choose one or two of these, sketch out a learning experience or lesson plan based on their choice, and join in critique and discussion of successful pedagogical choice especially in implementing mobile technology.
Day Two, Afternoon Session – Using Augmented Reality for mlearning (2.5 hours)
Augmented reality enables the physical world around us to be enhanced through the addition of an extra layer of information. By viewing the world through the camera function of mobile devices (or in more sophisticated interactions, head mounted displays - HMDs), the image that appears on the screen can have text, additional pictorial or animation placed on top, bringing a new level of interaction and visualisation for students, and placing information in the situation where it can have most meaning for learning.
The workshop will begin with presentation looking at the following (1.5 hours):
Early forms of AR
Examples of the recent use of AR, including:
The use of AR in field trips, tagging surrounding buildings with geographical information
Collaborative AR in mathematics and engineering
AR in the use of alternate reality gaming
AR in museums
Using AR to create simulations
Speculations on the future of AR
Discussion and hands-on (1 hour):
The workshop will move to discussion on ways in which the curricula could be developed effectively through the use of this technology. Those participants with mobile devices will have the opportunity to try out AR applications for learning. Conference-provided iPads will be available for this aspect of the workshop.
Read More on Keynote Speakers:
Disclaimer: The organiser reserves the right to change the talks, speakers and presentations without prior notice.